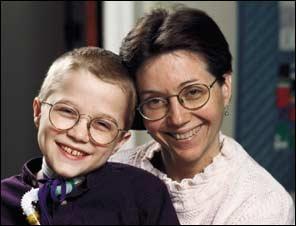 Jeni Stepanek is the next person I wanted to profile this month. I met her two years ago when she gave me a copy of the book she had written about her son. It's hard to get through the book without weeping. I had skimmed some of Mattie's poetry and seen him on T.V.. I had read some articles about him, so I knew a little about his story when I began
Messenger: The Legacy of Mattie J.T. Stepanek and Heartsongs
. Even so, I was unprepared for the power of his story and the power of his mother's love.
I think every mother should have a copy of this book by her bedside. Whenever I start feeling overwhelmed or down, I need to re-read a few pages and be reminded of my blessings. This Mama has dealt with obstacles I can't even imagine and her perseverance and inner strength is a true inspiration.
Who am I am inspired by?
Jeni Stepanek (she also answers to the name "Mattie's Mom).
Her bio can be found here.
What has she done that is so courageous?
She has the adult-onset of a genetic neuromuscular disease that requires her to use a wheel-chair and a ventilator. All four of her children - Katie, Stevie, Jamie, and Mattie - also had the disease. Her youngest child, Mattie, accomplished more and lived more deeply in his thirteen years than most of us do in eighty.
Where can I find out more information?
Her book on Mattie's legacy can be found
here
. The foundation she began in his honor can be found
here
. Please check them both out!